"Family is a life jacket in the stormy sea of life."
Family provides us with love and support, it comes to our rescue when we are stuck in the darkest phase of our lives, it is a place where we can share our sorrows as well as happiness.
Family plays a major role in the holistic development of a child. Having a place to call home and the warmth of a family, is truly a blessing. But imagine having no one to talk to, no one who you could call as your family. Imagine how aloof a person would feel. Imagine having a dad who has a habit of drinking daily, no mother, and a broken family. Tough, isn't it?
This is a story of two children whose father was an alcoholic. After their grandmother's death, they were deprived of the love of a family, which in turn hampered their mental well-being. As there was no one to take care of them, they felt lonely.
India Vision Foundation stepped in and counselled one of their distant relatives, who agreed to make the children live with them so they could have a home-like environment.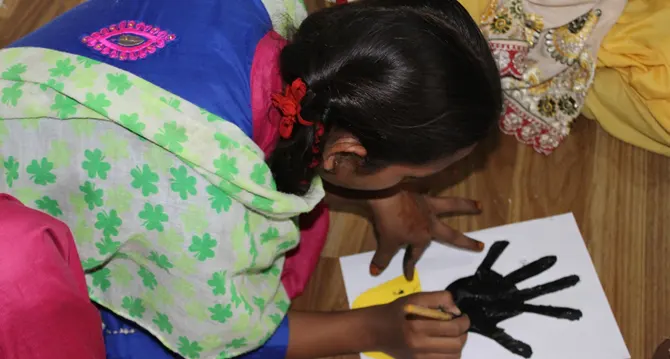 The Foundation also provided the children with amenities like ration, etc., and also conducted educative and interactive sessions with them, to ensure their social and mental well-being. Besides, the Foundation along with Nasha Mukti Kendra helped their father in the rehabilitation process. The children were delighted to have their father back from Nasha Mukti Kendra, and now they all are living happily together
What if parents of a child are sent to prison? How would that affect the child's development?
On one hand the child gets deprived of the family love and care needed to nurture his/her growth, and on the other -also faces the social stigma due to his/her parents act. If these children do not get proper guidance, they might become a victim of their parental incarceration or fall under bad influence. The life of two kids was affected, when the sole earning member of the family, their father, was sent to prison.
Their mother was not educated and did not have the skills to get a job.
Through the 'Inside Prison' program, India Vision Foundation got connected with the family and through its counselling sessions, motivate.
The Foundation imparted skill training to the mother and helped her to get a job in a factory. It also interacted with the kids through virtual sessions and provided them access to education through its 'Children of Vulnerable Families' programed them.
Intending to improve the lives of such families, India Vision Foundation regularly conducts various counselling and interactive sessions with the children. The Foundation not only communicates with children but also with their parents or siblings or whosoever the child is having an issue with. They identify and try to resolve their problems, provide them with emotional support, motivate them to participate in activities that would keep them busy and also help them in their overall development. To bridge the gap of communication between the parents and their children, the Foundation organizes weekly parents; capacity building meetings. Today, the Foundation is transforming thousands of lives every day and is striving to give hope in the lives of prison inmates and their children and empowering them to become an asset to society.
About the author:
Ms. Tanvi Mehta is a first-year student of O.P Jindal Global Law School, pursuing BA LLB degree. Interning at India Vision Foundation not only gave her exposure to humanitarian work but also motivated her to work for the upliftment of vulnerable sections.